Seberapa berharga blog wordpress yang anda miliki? Jika blog anda sudah berisi banyak sekali post tentu blog wordpress anda akan sangat berharga untuk anda.  Jika anda kehilangan semua data tulisan anda di blog itu maka tentunya anda akan sangat menyesal di kemudian hari.  Tulisan yang telah anda buat selama bertahun-tahun bisa hilang begitu saja.  Untuk itulah anda perlu membackup file dan database blog wordpress anda secara berkala. Banyak orang beranggapan bahwa ia mem backup wordpress adalah sesuatu yang sulit dan memakan waktu. Hal ini salah, banyak solusi untuk memBackup blog wordpress secara Otomatis dan Gratis. Blog wordpress yang dibackup ini khusus untuk blog wordpress self hosted (menggunakan hosting bukan di wordpress.com).
     Di internet memang banyak yang menawarkan solusi backup wordpress secara berbayar dengan harga yang terjangkau  namun itu tidak terlalu diperlukan karena dengan  plugin wordpress untuk backup di bawah  ini kita bisa membackup file dan database website kita secara gratis ke Dropbox. Dropbox tersedia secara gratis dengan kapasitas 2 GB data dan bisa bertambah hingga 18 GB untuk versi gratis (melalui referral).   Kapasitas sebesar ini cukup bagi sebagian besar pengguna wordpress self hosted untuk membackup data mereka.
     Dua plugins yang saya maksud adalah WordPress Backup to Dropbox dan BackWPup. Anda bisa memilih salah satu atau kedua plugin wordpress untuk backup ini sebagai pilihan anda. Plugins wordpress backup to dropbox lebih sederhana dalam settingnya tetapi kekurangannya yaitu jika anda ingin backup dalam bentuk zip di dropbox,  anda perlu premuim extension seharga $19.  Untuk plugins yang kedua yaitu BackWPup agak sedikit rumit dalam settingannya tetapi kita bisa menyimpan backup wordpress dalam bentuk zip di dropbox  kita dan email notifikasi  tanpa perlu tambahan extension.
Berikut ini adalah penjelasan singkat tentang cara install dan setting kedua plugins tersebut.
1. WordPress Backup to Dropbox
    Plugins ini sudah didownload  sebanyak lebih dari 500.000 kali dengan rating 4 dari 5. Ini menunjukkan bahwa plugins ini sangat banyak digunakan oleh pengguna wordpress untuk membackup wordpress mereka. Mereka memilih plugin ini karena simple, gratis dan otomatis. Dalam beberapa klik dan hitungan detik plugin ini sudah bisa membackup blog wordpress anda secara otomatis dan berkala sesuai jadwal yang ditentukan oleh anda.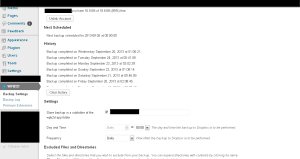 Untuk menginstall plugin ini sangat mudah, setelah anda login ke bagian admin wordpress anda silakan menuju ke bagian Plugins-> Add New lalu search : "WordPress Backup to Dropbox" (tanpa kutip). Setelah itu pilih Install Now. . Pada  halaman berikutnya pilih Activate Plugins.  Di bagian Backup Settings silakan link akun dropbox anda di bagian dropbox account details.   Di bagian Settings pilih di subfolder mana dari folder wpb2d anda akan menyimpan backup untuk website ini. Fitur subfolder ini akan sangat berguna untuk anda yang butuh membackup banyak  blog wordpress dalam satu akun dropbox. Di bagian selanjutnya anda dapat memilih frekuensi dan waktu backup anda apakah harian, mingguan, atau tiap beberapa minggu. Jika ada folder yang menurut anda tidak perlu dibackup silakan gunakan Excluded File and Directories untuk memilih folder yang tidak ingin anda backup. Plugins WPB2D adalah solusi backup multiple wordpress blog dalam satu akun dropbox secara gratis, mudah, dan otomatis.
2. BackWPup
       Plugins  untuk backup wordpress ini sudah didownload sebanyak lebih dari 900.000 kali dengan rating 4,3 dari 5. Untuk proses penginstalan mirip dengan plugin di atas, anda cukup mencari plugins "BackWPup Free – WordPress Backup Plugin" di bagian "Add New". Untuk membuat backup otomatis terjadwal, pilih Add New Job. Silakan isi pada bagian General Setting,  nama job untuk backup ini, apa saja yang ingin anda backup (database, file, dll). Isi nama file yang backup dan tipe yang diinginkan. Pada bagian Job Destination pilih Backup to Dropbox. Di bagian bawah masukkan email anda untuk menerima log backup anda. Di bagian Schedule pilih Start Job -> with WordPress Cron dan dibagian bawah pilih jadwal backup anda. Di bagian DBBackup dan Files silakan anda pilih mana yang tidak ingin anda backup. Di bagian To Dropbox silakan Authenticate akun dropbox anda (pilih yang SandBox). Yang terakhir jangan lupa pilih Save Changes.
     Demikian cara backup wordpress secara gratis untuk wordpress self hosted. Solusi ini adalah salah satu solusi termudah dan gratis untuk backup website berbasis wordpress milik anda. Masih banyak cara lain untuk membackup situs wordpress anda baik itu yang gratis maupun yang berbayar.